Portable, Wheelchair-accessible Shower Stalls
LiteShower™ Shower-in-bed Model
- Taking real shower bath in bed
For people permanently confined to bed (paralyzed, for example), sponge bath is usually the only bathing solution. Sponge bath never measures to a real shower bath. A real shower bath not only maintains general hygiene, reduces skin infection, and but also provides full-body relaxation.
The LiteShower™
Shower-in-bed
allows any person to take a real shower bath in bed - without leaving the bed.
How it works
:
Generally roll the patient to one side of the bed
Place the self-supporting and collapsible shower tray on the bed
Generally roll the patient inside the shower tray.
Tray collapse to less than 1-inch thick and bounces back automatically
Put a pillow underneath the shower tray to raise patient's head position
Connect a handheld shower to an indoor faucet with a single snap action.
Control water temperature and flow at the faucet.
Shower head has ON/OFF control button
Bathe the patient
Keep electrical water pump running during shower.
Fix suction hose at bottom of shower tray.
Dispose waster water into sink or toilet via discharge hose.

Dry the shower tray and the patient
Generally roll the patient out of the tray
Remove the tray and fold it away
Snap off the handheld shower from the faucet.
your faucet goes back to normal use
Here is a breakdown of
all the major compoments of LiteShower
.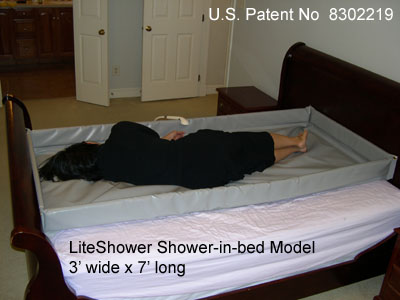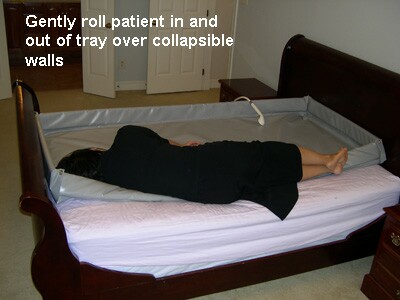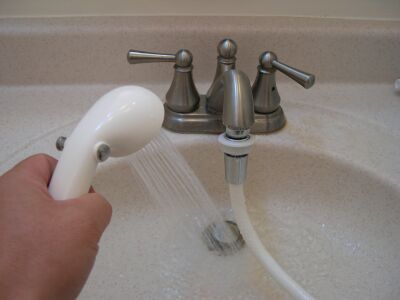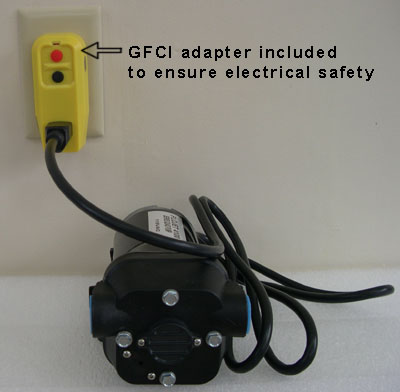 Online Order
Specification
Design for people to take shower in bed
Tray size: 3 ft wide by x 7 ft long
Tray weight: 6.5 lbs
UPC: 719926241908
What's included
(1) handheld shower sprayer with 25' hose (can be extended more)
(1) quick-connect adaptor to connect shower hose to faucet
(1) divert valve to connect shower hose to your regular shower
(1) 3ft x 7ft flexible shower tray
(1) water pump with 25' drain hose (can be extended more)
Note:
faucet adaptor (aerator type) has both male and female threads.
It only needs to be mounted on youor faucet once
Handheld shower head and faucet adaptor are pre-assembled
Shower screens require a one-time assembly with a screwdriver
Pump and hose connection required no tool (all snap connections)
Product Brochure
Download
LiteShower product brochure
.
Warranty
All products are covered by the
LiteShower product warranty
.
Case Study
A Canadian long-term care facility is flooded. 25 bed-bound patients have to be evacuated to a temporary facility that has no shower. LiteShower shower-in-bed is chosen to provide a quick relief.