Portable, Wheelchair-accessible Shower Stalls
LiteShower Standard Model
Low-cost alternatives to roll-in showers and walk-in tubs
This model is our best seller. A person in a shower-wheelchair is rolled into the shower for bath. A person can also sit down on a bench inside the shower.
How it works
:
Place the self-supporting and collapsible shower tray on the floor
If you are not using a shower wheelchair, place a plastic patio chair in the tray to sit down
Get in the tray - tray collapses under any weight but bounces back automatically. Step onto the wall to collapse it if you want to roll in a chair
Snap close together a pair of free-standing, folding shower screens around the tray. Screens have sliding shower curtains on all four sides. Tuck the bottom of the curtains into the tray
Connect a handheld shower to your kitchen faucet with a single snap action. Control water temperature and flow at the faucet. Shower head has ON/OFF control button
Take shower
To drain waste water in the tray, you place a special water pump anywhere outside the tray. Pump has a suction hose going into the tray and a discharge hose that drains water into your sink or toilet. Pump can run dry and requires no prime - just plug in the power cord. You start the pump before the shower to minimize the water in the tray
Snap open the shower screens and fold them away
Get out of the tray
Snap off the handheld shower from the faucet - your faucet goes back to normal use
Fold the tray away
Here is a breakdown of all the major compoments of LiteShower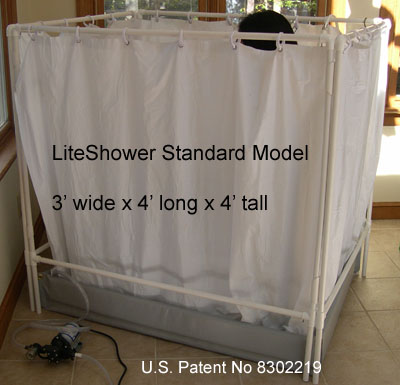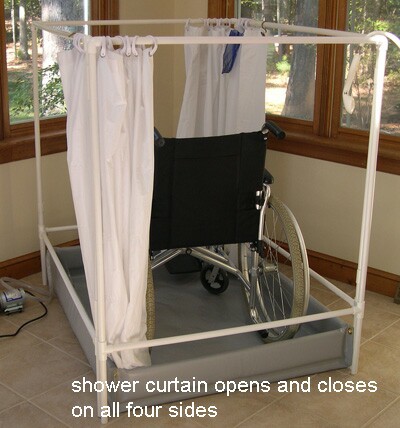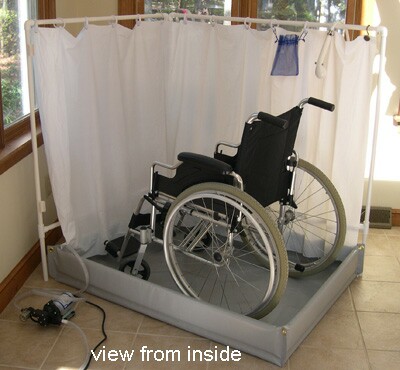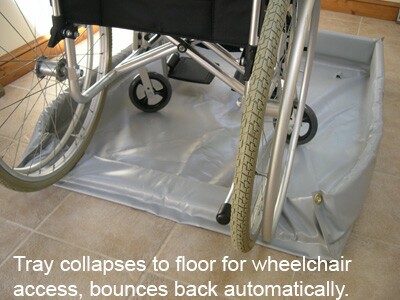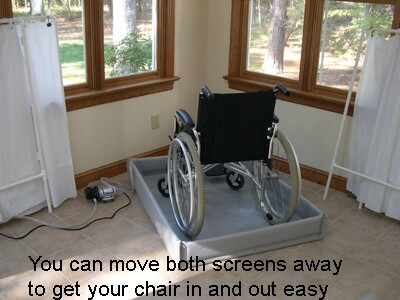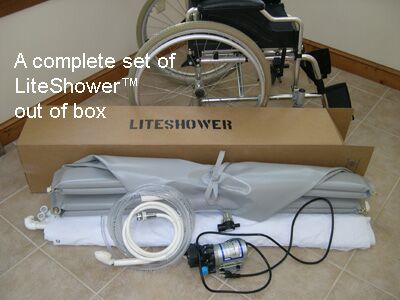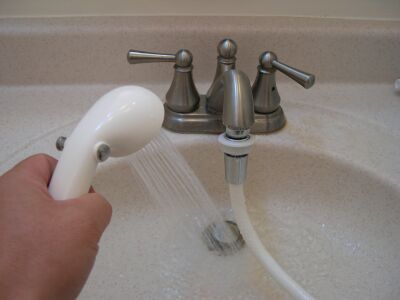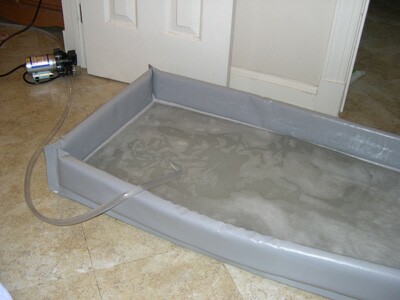 Online Order
Specification
Design for people to sit down in the shower
Tray size: 3 ft wide by x 4 ft long
Tray weight: 4 lbs
(2) bi-fold shower screens
Overall height: 4 ft tall
Each screen folded size: 4' tall x 4' wide x 2" thick
Each screen weight: 4 lbs
UPC: 719926241878
What's included
(1) handheld shower head with 7ft hose (can be extended)
(1) quick-connect adaptor to connect shower hose to faucet
(1) divert valve to connect hose to your regular shower
(1) flexible wheelchair-accessible shower tray
(1) pair of shower screens with sliding curtains and hook
(1) water pump with 6ft suction hose and 6ft drain hose (can be extended)
Note:
faucet adaptor (aerator type) has both male and female threads.
It only needs to be mounted on your faucet once
Handheld shower head and faucet adaptor are pre-assembled
Shower screens require a one-time assembly with a screwdriver
Pump and hose connection required no tool (all snap connections)
Product Brochure
Download
LiteShower product brochure
.
Warranty
All products are covered by the
LiteShower product warranty
.
Case Study
Betty's mother is confined to a wheelchair. When Mom comes to visit, taking shower bath is a problem. Betty's house does not have a shower downstairs. Even if she does, getting her Mom into the shower would be a struggle. So Betty bought a shower wheelchair for $50 and a LiteShower™ Standard models. Now Betty sets up the shower in the 1st floor and rolls her Mom into shower for bath
David's son was involved in an auto accident and was temporarily confined in a wheelchair. David doesn't want to spend over $10,000 to do a barrier-free shower for the temporary stay of his son. David uses the Standard Model to bathe his son and is very satisfied
Kathy lives in an apartment and she's recovering from her foot surgery. Kathy cannot climb into the tub to take a shower. She uses the Standard Model and places a beach chair inside the shower